About East Point Seafood
EAST POINT TINY SHRIMP
Our canned North Pacific Wild pink shrimp, MSC certified sustainable and chemical free, is the best available. In fact ours is the only canned pure wild shrimp available in the USA. We are the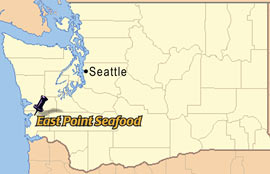 only company which produces canned wild shrimp in North America. It is a totally USA product, from our USA boats and crews to our USA processing plant and employees, it is 100% American. Others that can shrimp use foreign farmed shrimp, process it in a foreign country and import it to the US. They also add chemical sulfates. Sulfates are used in their shrimp production to speed peeling and increase the weight of the shrimp. Sulfates absorb water retention into each shrimp reducing value. Water absorption dilutes flavor and affects texture and quality of their product.

HISTORY
We are located on the Willapa in the Pacific Northwest. Willapa Bay is located in Washington State along the Pacific Coast Hwy 101, right on the North Pacific Ocean. The banks of the bay were inhabited by the indigenous Chinook, Chehalis and Shoalwater people when the first white settlers arrived here in the 1850's. The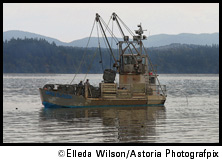 Willapa was teaming with seafood abundance. Many seafood processing facilities sprang up back then, built by eager pioneers forming new lives and small communities. Among the latest to arrive was our company, Custom Seafood Services Inc., established in 1994 by John Phillips and later joined by Chris Heckman just before its purchase of Harbor Bell Seafood's, which had been established in 1963. After that was our purchase of the Nelson Crab processing plant, originally established in 1934. Then in 2015, we purchased all the processing capability of East Point Seafood, original established by Erving H Bendiksen in 1942 and most recently purchase of Tuna Guys, originally formed by John Holt in 1995. While we are one of the few plants remaining from the long line of seafood companies on the Willapa, we continue to process only the finest wild sustainable product while never adding any chemicals. This assures every customer of our products the purest, most wholesome seafood available.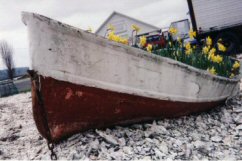 E-mail: onlinesales@eastpointseafood.com

Mail: Harbor Bell Seafoods, LLC, 2288 W. Commodore Way #205, Seattle, WA 98199

Call: 206-257-1486